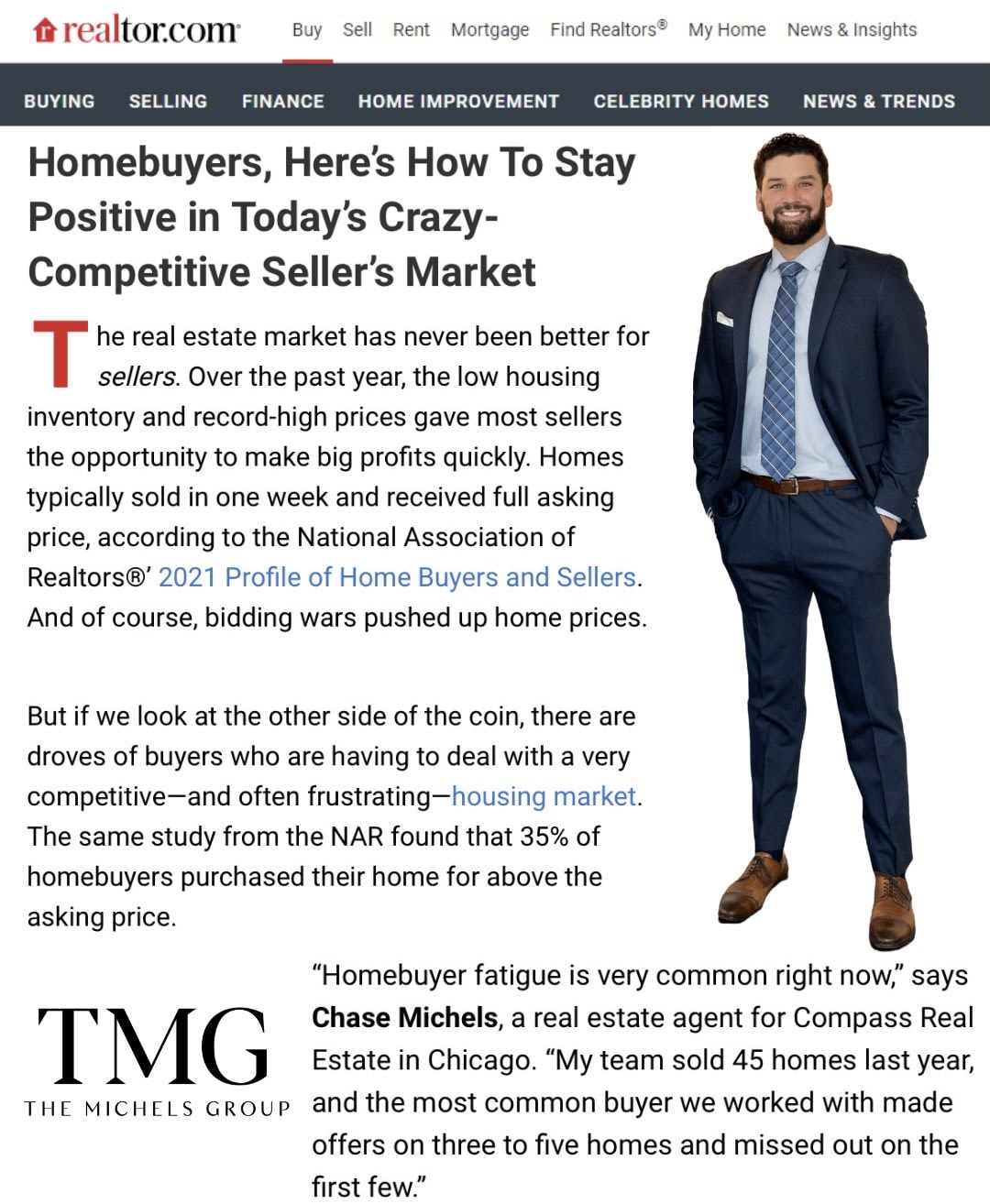 The real estate market has never been better for sellers. Over the past year, the low housing inventory and record-high prices gave most sellers the opportunity to make big profits quickly. Homes typically sold in one week and received full asking price, according to the National Association of Realtors®' 2021 Profile of Home Buyers and Sellers. And of course, bidding wars pushed up home prices.
But if we look at the other side of the coin, there are droves of buyers who are having to deal with a very competitive—and often frustrating—housing market. The same study from the NAR found that 35% of home buyers purchased their home for above the asking price.
In times like these, it's tough for buyers to compete—and even harder to stay positive.
"Homebuyer fatigue is very common right now," says Chase Michels, a real estate agent for Compass Real Estate in Chicago. "My team sold 45 homes last year, and the most common buyer we worked with made offers on three to five homes and missed out on the first few."
Things may seem especially hopeless for first-time homebuyers.
"As home prices increase, generally first-time buyers are hit hardest because they have no previous home on which to draw equity," says Jessica Lautz, vice president of demographics and behavioral insights at NAR. "Furthermore, in the current environment, these buyers also face soaring rent prices and high student debt balances, which makes it extremely difficult to save for a down payment."
Buying a home is already an emotional process, but having to deal with so much disappointment can be freakishly stressful. For a little bit of perspective, we turned to real estate experts with decades of experience who have seen crazy cycles like this one. They shared tips on how buyers can stay positive, make smart decisions, and get one step closer to landing the right house.
Get pre-approved for a home loan
Your first order of business (if you haven't already done so) to show you're a serious buyer is to find a lender who will pre-approve you for a home loan.
"Get pre-approved for a mortgage," says Nik Shah, CEO of Home.LLC in California's Marin County.
In addition to helping you be realistic about your price range, it also shows you have a commitment from a lender to finance your purchase. When sellers review your offer and see that you are pre-approved, they'll be more likely to accept your offer over another buyer who doesn't have pre-approval.
Tell everyone you know you're looking for a house
If you're looking for a house, shout it from the rooftops.
"You should reach out to your personal network and even put out the word on social media," says Bill Samuel, co-founder of Blue Ladder Development in Chicago. "You'll be surprised how many potential homes you can find that way. And if you have a personal relationship with the seller, or know someone who does, it will improve your odds of getting your offer accepted."
Be open to a rent-back agreement
An under-the-radar way to land a house is to be empathetic to the seller's needs. Often, sellers are in the process of closing on a new home themselves, but that timeline might not align with your purchase of their house. Therefore, they might require a rent-back agreement, which would allow them to live in the house for a set amount of time after closing.
Essentially, they would be your temporary tenants and would have extra time to close on their new home and pack up.
"Often, just being flexible in the offer and allowing the seller a certain amount of time to close the sale can be very helpful," says Marie Bromberg, a licensed real estate salesperson with Compass in New York City.
Invest your sweat equity
If the house needs work but has good bones, roll up your sleeves.
"Home prices are inflated, but there are still ways to find a really good deal," says Jordan Fulmer, a real estate investor with Momentum Property Solutions in Huntsville, AL.
"Look for a house that needs some work. Even though most homes are selling for astronomical prices, houses that are not list-ready due to necessary repairs or updates may struggle to sell and allow you to buy them well below market price," adds Fulmer. "By putting in some sweat equity into a fixer-upper, buyers can stay within their budget while still ending up with a beautiful home."
Wait it out
You never want to make a hasty house purchase or buy any old home just because you're sick of losing out to other buyers. If you're having trouble buying a house right now, our experts recommend waiting it out. As painful as this may sound, if you can sweat out your current living situation, or rent another place for a year, you may end up with a better house in the end.
"This is currently the lowest supply of home for sale in history," says Michels. "These are unprecedented times, so if you don't need to move urgently, then don't. In 12 to 18 months, things could look much different for buyers. If you have the option to rent, you should consider it."