From 1908 to 1940, more than 70,000 of these houses were sold in North America, by the company's count. Sears Modern Homes were purchased primarily by customers in East Coast and Midwest states, but have been located as far south as Florida, as far west as California, and as far north as Alaska and Canada. No comprehensive list of their locations exists. More than 370 designs in a wide range of architectural styles and sizes were offered over the line's 34-year history.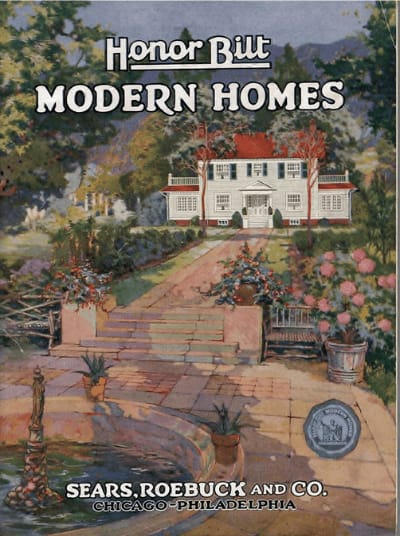 Sears Modern Homes offered the latest technology available to house buyers in the early part of the twentieth century. Central heating, indoor plumbing, and electricity were all new developments in house design that "Modern Homes" incorporated, although not all of the houses were designed with these conveniences. Primarily shipped via railroad boxcars, these kits included most of the materials needed to build a house. Once delivered, many of these houses were assembled by the new homeowner, relatives, friends, and neighbors.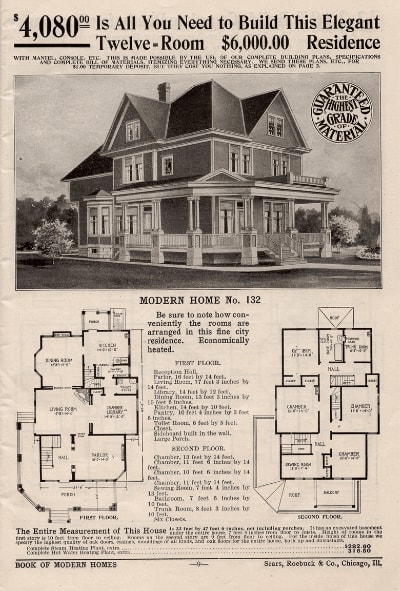 In 1908, Sears issued its first specialty catalog for houses, Book of Modern Homes and Building Plans, featuring 44 house styles ranging in price from US $360–$2,890. The first mail order for a Sears house was filled that year. As its mail-order catalogs were already sent to millions of homes, Sears had a distinct advantage over other kit-home competitors. As sales grew, Sears expanded its production, shipping, and sales offices to locations across the U.S. To provide the materials needed for the Modern Homes division, Sears operated a lumber mill in Cairo, Illinois.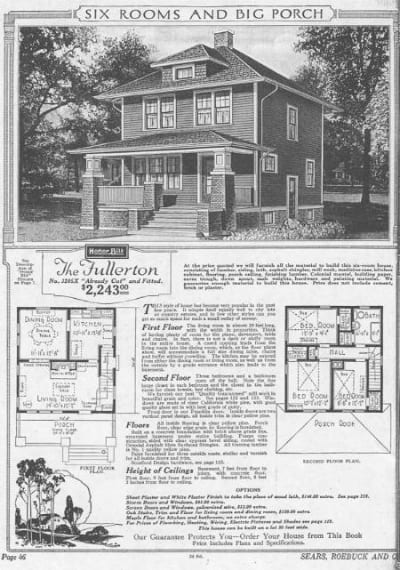 Sears offered 370 models over the 32 years it sold houses by catalog. In the early years, the models were identified with numbers. After several years, Sears also began assigning names to the various models. Some models were offered with variations, the most common of those being expanded floor plans and additional finished living spaces. Sears houses could also be ordered with reversed floor plans. While the vast majority of models were for single-family house designs, Sears offered some duplex house designs and even a few larger multiple-family buildings. The largest and one of the most expensive Sears models was the Magnolia. Only seven Magnolias are known to be still standing. One Magnolia built in Lincoln, Nebraska, was demolished in 1985.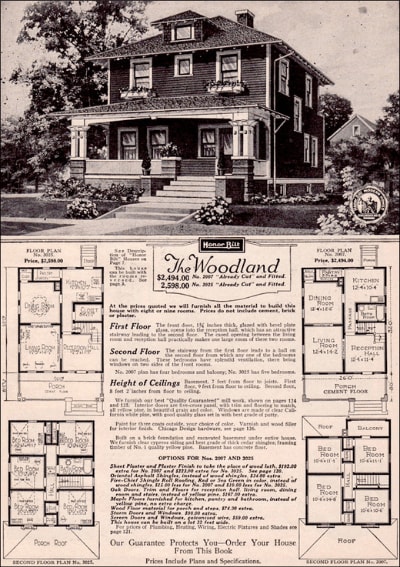 Because the Modern Homes division sales records were destroyed, there is no way to definitively verify the number of Sears houses that still exist. Documented Sears houses have been found across the United States and in a few locations in Canada. Cities with large numbers of documented Sears Modern Homes include: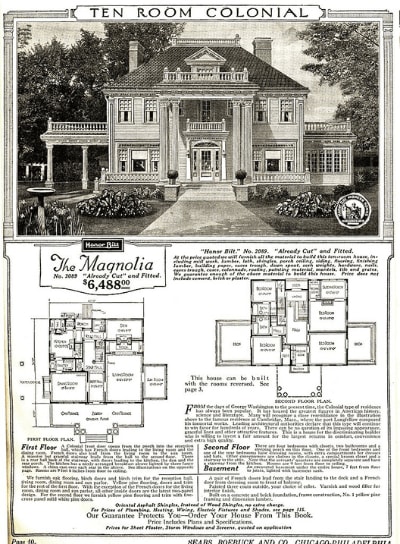 Considering Sears, Roebuck & Co. was founded in Chicago back in 1893, it's no surprise Illinois boasts many of the company's ready-to-assemble kit homes (second only to Ohio). Here are five recent sales and listings of Sears homes around Chicagoland.
1. 721 Illinois Street, Geneva, IL, 60134 Sold for $390,000. ADORABLE Sears-kit home! Completely renovated from the inside to the outside! EVERYTHING was replaced and upgraded here! It couldn't possibly be more adorable.... tall ceilings! Open floor-plan! Charm and flair at every turn! Charming master with the ever-elusive master bath that is rarely found in this neighborhood! Finished basement with half-bath/great bar area/tons of storage! Fenced yard with professional landscaping that will captivate you!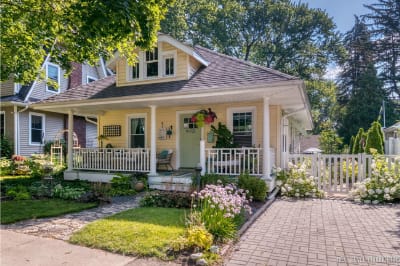 2. 434 S Craig Place, Lombard, IL, 60148 Sold for $324,000. Charming Sears kit home in the best part of the Lilac Village! This home has been in this family for nearly 70 years. Lovingly cared for vintage 1.5 stories with four bedrooms, 2 bathrooms, and a full basement all painted and ready for finishing to your personal taste. Two bedrooms on the main level area in addition to a bright, sunny office that looks out over the yard. Two bedrooms on the second floor have brand new carpeting. Windows throughout the house have been replaced in the last 10 years including enlarging and adding new basement windows.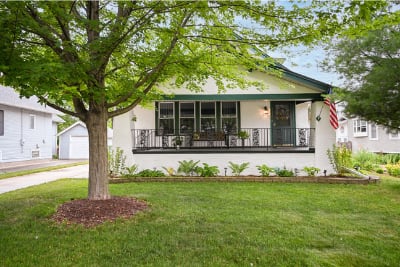 3. 126 S East Avenue, Oak Park, IL 60302 Sold for $435,000. Sears Kit Home? The seller believes this home to be a Rembrandt Model Sears Kit Home. The home was featured in Jeanette Fields March 26 1997 article about Sears Homes. Sears Homes were constructed with the highest quality building materials available at the time. As you enter the reception hall, you are greeted by a lovely staircase leading to the second floor. This home still contains the original staircase, windows, ceiling moldings, and French doors.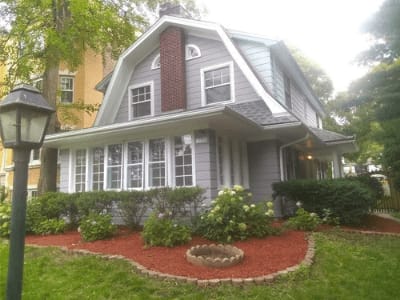 4. 9712 S 54th Avenue, Oak Lawn, IL 60453 Sold for $300,000. This absolutely amazing Sears, Robuck & Company home has been lovingly maintained by the long-time owner, is freshly painted on first & basement level, and includes 5/6 bedrooms, 2.5 baths, an eat-in kitchen, and a full separate dining room. Full finished basement with extra living space.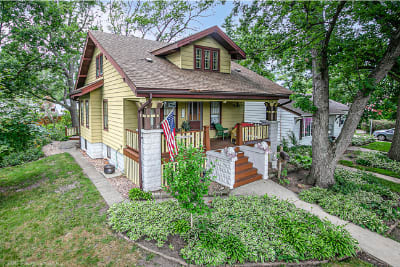 5. 4832 Wallbank Avenue, Downers Grove, IL 60515 Listed for $699,000. This unbelievably charming 3 bedroom, 3 bath cape cod home hasn't been on the market for over 30 years and enjoys history, warmth, and updates typically not seen in this price range. This SEARS CATALOG HOME was built in 1932 and has stood the test of time, and has all of the original character of the Rochelle Model. Completely renovated kitchen in 2020 with white cabinetry, granite counters, stainless steel appliances, and limestone flooring. The large 1st-floor master suite addition completed in 2006 includes plenty of natural light, a master bath with soaker tub and separate glass shower, a walk-in closet with California Closet Organizers, and a private laundry room. 2nd floor has 2 bedrooms and a full bath. The basement has an abundance of storage space, another full laundry room, and a finished rec room. Beautiful backyard deck with access from the living room and master suite!