Ever browse homes on Zillow and pause at a home that has a stand-out front door? Perhaps it's a fresh red or canary yellow. There's a reason you paused — and it's likely the seller hoped to catch your attention. Choosing a color to paint the front door may sound like an unimportant choice, but it can potentially boost — or reduce — the price of the offer you receive. So which color may be the most likely to catch buyers' eye or prompt them to put in a higher bid? According to actual and prospective homebuyers, it's slate blue. This color appeals to more buyers, meaning the home could sell for a higher price.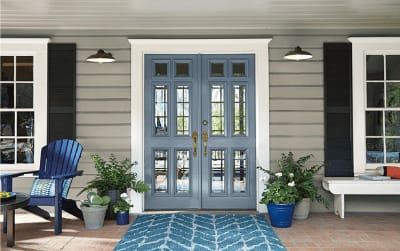 According to a Zillow study, this chalky light blue-gray color was perceived to make the overall home more attractive. In the study, recent and prospective home buyers were randomly assigned images of front doors painted one of 11 colors, and participants were more likely to bid on a home with slate blue, with an offer of around $335,678 on average. That's $1,537 more than the typical U.S. home value of $334,141.*
Highest resale price: Black
If you're looking for the best color to paint the front door for resale, seriously consider black. Yes, the most polarizing color also has the potential to nab a higher resale price for a home. If you were to paint your front door black, the right buyer could be willing to pay $6,449 more than the typical U.S. home value.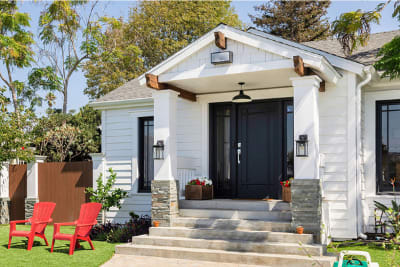 Colors to avoid: Pale pink and cement gray
Zillow's study shows these two colors were off-putting to homebuyers, with some citing these colors as making the home appear more "shabby looking." More specifically, painting a door cement gray received the lowest score from study participants. Pale pink doors could receive offers of $6,516 less — a pretty huge difference compared to slate blue or black doors. While it seems like such a minor change, taking the time to consider how your front door acts as a visual cue to prospective buyers is important. After all, you want to maximize the price you'll be able to sell the home for. Of course, just because you chose the best color to paint your front door doesn't mean you can guarantee you'll maximize the price you'll ultimately sell for. Numerous other cosmetic factors, including curb appeal, could skew a buyer's perception of your home.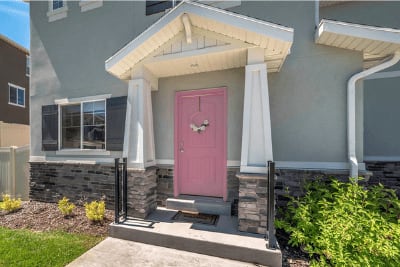 *This study included 1,549 participants across the U.S. who indicated that they had bought a home within the past two years or plan to buy a home within the next two years. This study was conducted between May 20, 2021 and May 24, 2021 by BEworks and Zillow. Participants were randomly assigned to view one of four different front doors and one of 11 colors. The home's interior was the same for all participants.